12 colors oil pastel set

Now you can try out new line of Oil Pastels in these brilliant and convenient sets! Formulated from the finest pigments and materials to be rich in color and smooth in consistency, these oil pastels are perfect for any artistic expression. Easily blended either dry or with solvents, Oil Pastels lend themselves wonderfully to all sorts of techniques from scraping and stippling to color gradations and overlays. Pick up a set today and enjoy the vivid, expressive touch Oil Pastels give to all your pastel artwork!
oil pastel:
1.pure fresh color
2.exquisite
3.safety guarantees
4.represents the child the color
We have 6 colors set ,12 colors set , 18 colors set ,24 colors set , 36 colors set and 48 colors set.
The color series including ordinary colors , fluorence colors , matellic colors.
The Chinjoo Moon Boat oil pastels is pure fresh lovely,exquisite, Then take the convenience,The safety guarantees.Each a pastel represents the child the color that heart bottom most hopesearnestly,all for realize chromatic dream in child but exsit.Not posinous and harmless,healthy and environmental protection, break not easily, not easy lose, take the convenience and apply to make dirty the clothes wideklt and not easily.
Main composition:
Refined the powder of wax, mix with oil, caicium carbonate, color pigment.
Product name:Moon Boat oil painting stick
Notice:
1.Do not suck use mouse or smears over and take orally.
2.Defnd hot, defend to bask, do not place is next or have the nearty hot air in the sun light.
3.The careful prevent the child under 3 years of age swallows the food.
Not posinous, safe,healthy, environmental protection
Conforms to EN 71-3 in standard totally.
If the product has any abnormality or hurt,please act for in the region place or send to return to our company to exchange, or wire this department consumer service hot-line.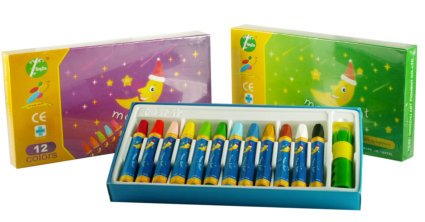 Elenco prodotti : Kids 'Art Paint > Pastello a olio