Multipurpose Poster Color Paint

Non-toxic poster colors are premier artistic paints that inspire bold creativity in children for a great addition to home or school art studio, these colors can adhere easily to surface like textured paper. Skeching paper, smooth tinted paper or even on cavas, perfect for banners, posters, display boards, etc.

Specifications
Poster color paint
1,Vivid color
2,Smooth paste
3,Strong covering power.
4,Drawing fluently 5,Conforms to ASTM D-4236&EN71-3
Poster color paint
1.Chinjoo poster colors are perfect paints, known for it's versility and nice performance.
2.Refined and stable paste with proper cosistency.
3.By the combination of moderate gum and powder, CHINGOO poster color has an excerllent covering ability without reflection of gum light .
4.Here we have a wide range of functions for you to paint or design the different kinds of art pictures, advertising words, artistic and creations and etc.
5.With the best natrual gum , they offer an excerllent and healthy experience for the ultimate expression of your inspiration.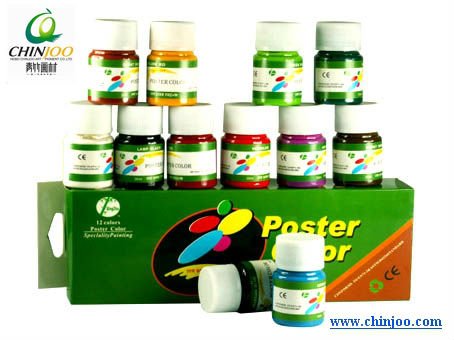 Elenco prodotti : Pittura artistica professionale > Poster Color